JHS spring musical "Joseph And The Amazing Technicolor Dreamcoat"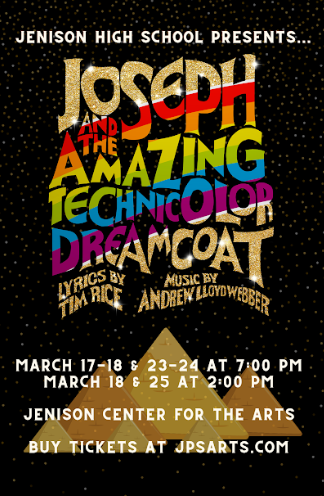 Joseph And The Amazing Technicolor Dreamcoat
 This spring musical being what it is and having a little controversy between members of the company, we had to interview some people and get conclusions and opinions. The most important thing that happened in this Thespians company was that some people were not happy at all with this decision taken by the production team, but was it all the production team making this decision without taking the opinions of the actual actors into account?
A fact is that not everyone was jumping with excitement when the director Ashlee Degraaf told the news of this spring musical as we can tell by the interview we had with the lead of the musical, Gage Bergman
.
"
At first I didn't think it was a great idea and it didn't sound like a musical that people would enjoy, but when I listened to the music I thought it would be fun because I've never done that type of music before"
In the interview we had with the lead of the show, representing all actors, we asked him how long he had prepared for those auditions because the actors go through a very difficult process of selection for each role
.
"If the scripts come out 1 month in advance of the auditions I prepare it for that amount of time, but in general from 2 to 3 weeks" – Gage Bergman, "Joseph"
Crew
We also talked with one of the production team leaders, Jen Postema who told us about the time and effort that students as well as herself put into creating the set for each show
.
" Creating an entire set could take several months to complete depending on the set design and the crew's size and skill level
."
" For Joseph and the Amazing Technicolor Dreamcoat, we will have many props to create, for example, the sheep and camel
. Those will be fun to make."
We went into more detail with Jen Postema, her being the great leader she is, and how she started at the High School helping out with the creation of the sets
.
" I first started helping with the High School working on scenery pieces. After that, I started working with the Set and Props Crews. Over time, the Paint Crew developed. I work on four to five (sometimes more) shows a year. Wow! I guess I enjoy working behind the scenes with theater. I never thought I would be working in this field but I can't imagine not continuing it. The students help keep me going, and I enjoy being able to use my creative side."
Each one of these people plus all the Jenison theater company makes everything possible, each person puts their complete effort so that this musical can be extraordinary
.
This is a little peek about this Jenison High School spring musical, but you can come on March 17-18 & 23-24 at 7:00 pm on March 18 & 25 at 2:00 pm at the JCA to see it for yourself
.