DECA: a great chance to get your business career started!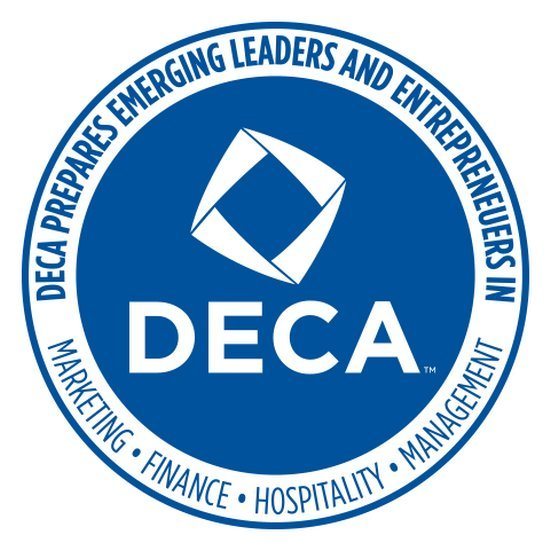 DECA is a co-curricular club that for the last 36 years has been allowing Jenison business students to grow in an international environment and develop useful life-skills.  "Business students have the opportunity to apply what they are learning in class to competitions on a regional, state, and international level," said Mr. Hunt, 15 years working on DECA.                                            Including both high schools and college students, this project has an international range. In fact, it involves several countries among which the USA, Canada, China, Germany, and Spain. 
This bigger contest in which the students work allowed them to grow and improve, highlighting at the same time the great opportunities available in our school. In fact, DECA focuses on the development of skills related to Business Management, Entrepreneurship, Finance, Hospitality and Tourism, and Marketing, aiming at "Preparing emerging leaders & entrepreneurs". Thanks to the study of real-companies-related cases and competition either with written business plans, sales pitches, the students develop "work (soft) skills, networking, project management, and acquire scholarships or resume builders," stated Mrs. Whittecar, advisor for DECA in JHS.
DECA in Jenison High 
This year, DECA involves around 130 Jenison students reaching the highest number of adhesion ever. Our students will be able to work on their own or with classmates in several events. The Districts competitions will be held at Ferris State University in January 2020 where students will try to earn a spot at the States competitions. The following step is the States competition in Detroit, MI (March 2020). This time the young entrepreneurs will battle for a place at the Internationals, the last step of this amazing journey. Hosted in Nashville, at the Internationals we will see students coming from different countries of the globe showing their project and trying to win the award also known as DECA glass. 
Talking with Mrs. Whittecar and Mr. Hunt, I could not help noticing the importance and the benefits of this project. They both agreed on the big impact DECA has on students' education allowing them to reach great goals. "This project has been a great success. I have seen it personally with certain students that grow and develop over 2-3 years of doing DECA," stated Mrs. Whittecar.                 "Students leave DECA with more confidence, friendships, and the ability to outperform at work and college," said Mr. Hunt.
Furthermore, DECA represents a great opportunity for all those students who want to obtain a scholarship, favoring college students who have this experience in their curriculum. 
"
Students leave DECA with more confidence, friendships, and the ability to outperform at work and college."
— Mr Hunt (Advisor for DECA in JHS)
Important achievements in JHS                                           
Every year DECA provides guidelines for School-based Enterprise (SBEs) and occasionally awards for remarkable achievement at three levels: bronze, silver, and gold. The Green Bean and the Cats' corner are both SBEs and the two of them are a great success. In fact, our school store and coffee shop both received the Gold Certified by DECA for more than 7 years. This is always a great opportunity because the gold prize allows SBEs to participate in the exclusive SBE Academy and competition.
And that's not all. In fact "[…] last year we had a team earn 3rd place honors at the international conference," stated Mr. Hunt.  Emma Scott, Mackenzie Sanders, and Alyssa Sumption earned 3rd place in the world for their presentation.
How to get involved in this great experience                                   
If economics studies intrigue you this could be an occasion you don't want to waste. Getting involved in the project is easy, you just need to be in a business class or enrolled in one in the past. Once you are in business courses, you are able to join.                                     As Mrs. Whittecar said, DECA "is an amazing professional organization for students that is fun and enriching." It will allow you to acquire uniques life-skills.
So what are you waiting for? Go and be a part of this great project.