Jenison High Schools dress swap is cheap and convenient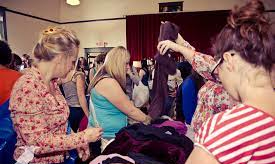 Dress Swap
Our High School is having our homecoming dance on October 1st, 2022. Jenison High School's dress swap is an easy way to go and pick up a cheap dress for homecoming or any formal events.
The high school has been running the dress swap event for around four years. Though they started before quarantine, so it could've been more. Megan Terhaar started this program to provide cheaper dresses for homecoming.
Dresses
The school has been running this program pretty well over the few years. Gaining plenty of dresses for girls to come shop for on the night of the event. "Over the past four years we have collected an average of 34 dresses during donation times before and after school (according to the dress swap notebook)", says Emma Higbee, a senior in the student council.
Event Reviews
Additionally, I asked a few people their opinions on the dress swap. Though not surprising, the dress swap has a lot of good reviews. "Personally, I think the dress swap is such an amazing program that allows people to not spend an absurd amount of money on a dress that they're likely only to wear once." Emma Higbee also stated.
Night of the Event
Students are also allowed to bring dresses on the night of the event swap. Which is a great idea for students who forget. "We often end up collecting a large number of dresses on the night of the dress swap. So, my guess as to the average number of dresses would be approximately 45 dresses!" Emma also commented.
I went to the event that night and picked out a dress. Everyone there seemed happy to find a pretty new formal dress to wear at homecoming for a cheap price.
The dress swap is a perfect way to buy or find a cheap dress to get started with for these formal events.
Extra Info You Might Want to Know
Jenison is raising money for the Make-A-Wish organization. Along with all proceeds of the dress swap going to Make-A-Wish, they added extra ways to give back. Such as money from the dance in general, assemblies, and spirit week. These get everyone rallied up and up to help raise money for these Make-A-Wish kids. Jenison has been raising money for organizations like Make-A-Wish and Change Can Change Hunger for around six to seven years.
A good way to get involved in the Make-A-Wish foundation is helping out Jenison students raise money during the homecoming season. If you want to get involved further the resources are a search away. There are many ways to volunteer. There are Wish Granters, Translators/Interpreters, and Office Volunteers. Also, Speaker's Bureau Volunteers, Events Volunteers, and Skill-Based Volunteers. The easiest and most common way to help volunteer is to be a Wish granter. Wish granters meet with wish kids and their families and help children determine a wish. They also help people fundraise to get that money to grant those children their wishes. You can get involved today.