Community marches, demanding justice for Breonna Taylor
In protest of Breonna Taylor's death, March 4 Black Lives, a student run organization, arranged a march starting at the Jenison Family Fare on Saturday, September 19. They scheduled the march to go from 1 to 3, but it ended around 2.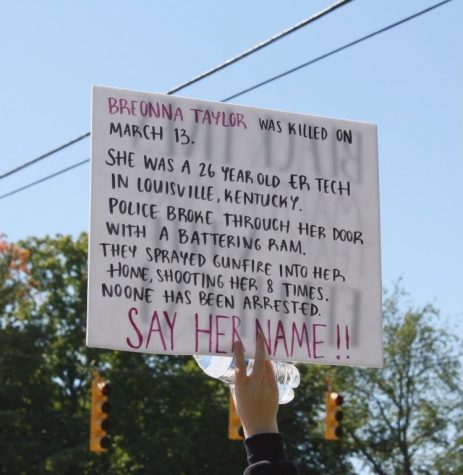 Breonna Taylor was a 26-year-old woman from Louisville, Kentucky. She was an Emergency Room Technician at UofL Medical Center. Police broke down the door to her home and shot her eight times in her hallway. That occurred on March 13th. To this day, almost 200 days later, arrests are yet to be made.
About March 4 Black Lives
The founders of March 4 Black Lives are Nadia Ujlaky (executive), Elise Weberg (administrator), Maxwell Seidel (marketing/media organizer), and Charisse Uljaky (treasurer). Although those were the original four members, they did expand their team recently. Others involved include Margaret TenElshof (safety and health), Brooklyn Gustaf (fundraising/donations director), and Miles Lareau (photographer/videographer).
When asked what changed in her life since starting March 4 Black Lives, Charisse stated, "I've become more aware of what's going on in not just America, but the world".
Backlash
In addition to the positive feedback from the community, they did receive some backlash for what they do. Wood TV covered some of it, back in June. Since then, they continue to take a mature and discreet course of action.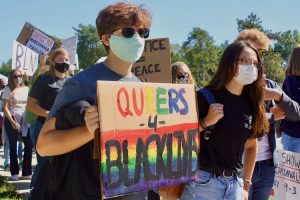 "We have received backlash. On our Facebook, mostly. When we post events, we sometimes get people saying that this is a negative and aggressive thing that we're doing, that we shouldn't be doing it and that we're too young to be doing this. We feel that if no other older people are going to take action, we might as well. We like to say "be the change you want to see in the world", " said Elise.
The impact
Despite the occasions in which backlash occurred, March 4 Black Lives has had such a heavy impact on the community. They inspired so many people to step forward and demand change. The multiple social media accounts attached to March 4 Black Lives has made it easier reach out and motivate others to join in.
"
My favorite part is being given the chance to educate others about racism and inequality on a bigger platform
— Maxwell Seidel
March 4 Black Lives is responsible for hosting one other event, which took place on July 14th. They plan on organizing many more in the future and encourage everyone to help bring justice for all of those who have lost their lives or a loved one's life.
For only starting the organization months ago, March 4 Black lives continue to receive a tremendous amount of outreach and support. Breonna Taylor's aunt even attended their most recent march. There is hope that if they continue to stand up for what it right, there will be justice for Breonna Taylor and many other cases of police brutality.