It's okay to not be okay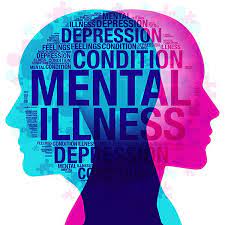 Who can mental health impact?
Mental health is one of the biggest problems faced by teens in today's society. In fact, mental health can affect anyone. The Adolescent Academy reports that "mental illness is common among teenagers throughout the United States and globally. Studies show that approximately one in five teens between ages twelve and eighteen suffer from at least one diagnosable mental health disorder." It is important for middle school and high school students to pay attention to their mental health. Not only are they getting older and adjusting to being young adults, but competing priorities can pull them in several directions, and be very stressful.
How can students get help?
Some teens may be nervous or afraid to ask for help as they do not know what to expect. That is normal. There are options for students to get the help they need. A few tips you can try to make sure you get enough sleep, exercise, eat healthy foods, and talk with friends or family. If those do not work, you should make plans to talk to a therapist. They will be able to listen and provide some advice, so you know you're going down the right path. 
Where can you go to get help?
There are several types of resources for students to get help. Services include in-person counseling, online support, brochures and videos of in-patient treatment, and even 24/7 telephone hotlines. It is not only important for students to know about these resources, but to use them. Teens are struggling with mental health as we have never seen before. The key is to ask for help and to get help early. 
When can mental health affect students?
It depends. Mental health can affect every person. For some, it may be an occasional challenge and for others, it might be on a daily basis. Each person is different. Some students may find school to be a source of stress as they try to balance homework and sports. Others may find it more stressful when they are on break. Mental health issues among students are not going away, they are only getting worse. The CDC says in 2021 after the pandemic, more than 4 in 10 (42%) of high school students felt sad or hopeless and one-third (29%) experienced poor mental health. Why does this continue to happen?
Why do students struggle with mental health?
There are many reasons students can struggle with mental health. It varies by person and can affect them at certain times or all the time. Reasons can include life events, family situations, issues with friends, and even school. According to the U.S. Surgeon General, bullying, academic pressure, and missing out on educational opportunities are a few examples of how school can play a role in mental health. Instead of learning, making friends, and finding their place in the world, poor mental health in high school students may make it difficult to focus in class and not communicate with friends. Technology and social media can also play a role. They can be a constant staple in the lives of teens today and often portray unrealistic expectations of reality.
How can you find resources?
The first step in asking for help can sometimes be the hardest. But it does not have to be. There are several online and in-person options available to you. Teenlife.com provides links to several tools, resources, and online support. Your school counselor is a great person to ask for help and they can lead you in the right direction. Your parents and friends could do the same. Anyone can help you. All you have to do is ask for it and not keep it to yourself. Treatment for mental illnesses usually consists of therapy, medication, or a combination of the two. Counseling can take place in person or through a phone or computer (telemental health). It can be difficult to know where to start when looking for mental health care, yet there are many ways to find a provider who will meet your needs. Remember that it is okay, not to be okay. There is hope and there is help.