Why are sports cards making a comeback?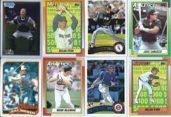 Are sports cards making a comeback?
Jason Griffith, a contributor to newsbreak.com said, " Sports card collecting, a hobby that was once thought to be on the verge of extinction, is making a comeback
.
In recent years, the market for sports cards has been experiencing a resurgence, with collectors, investors, and even casual fans alike showing renewed interest in the hobby
."
This statement shows that sports cards are making a comeback and there is real money to make in the sports cards business
.
Why are people getting back into sports cards?
Liam Horgan, a writer for
oakmonitoronline.com
said, "Collecting cards of the stars of the past, present, and future from all over the world is what makes sports card collecting so interesting to so many people
. Millions of people collect cards all around the world.
According to Boston.com, there were over 4 million cards sold on eBay in 2020 for a 142% increase of sales for all sport cards from the year before
. Collecting sports cards is back and better than ever." A 142% increase is crazy over a year. This is why so many people are getting back into this because there is so much money to make in this business.
Where are all these sports cards made?
Today, Panini America creates basketball and football cards from its home base in Arlington, Texas
.
Though it has promised to bring new ideas to the hobby, it's also expected to continue Donruss' knack for celebrating the past, present and future of sports in many of its brands
.
The company also scored a major coup in late September 2009 by signing NBA superstar Kobe Bryant to an exclusive trading card contract
.
Bryant, a spokesperson for Upper Deck, signed autographs only for Panini America well into the 2010s
.
This Kobe signing made Panini so much money since they had exclusive rights to him so they were the only ones that could have Kobe cards
.
Who is the most expensive card in the world?
Csgcards.com said "On Sunday, August 28, 2022, a Mickey Mantle 1952 Topps card shattered the record for most expensive sports card when it sold for $12.6 million by Heritage Auctions
.
The 1952 Mickey Mantle card, which has gotten called to as the Chairman of the Cardboard, is an iconic card for many reasons
. For one, it is impossible to deny the superstar status of the player it features. Mickey Mantle
is known
as one of baseball's greatest sluggers and a legendary switch hitter.
He holds the record of being the only player in history to hit 150 home runs as both a right-handed and left-handed batter.Scarcity is another reason the card carries a multi-million-dollar price tag
. As the story goes, the Mantle card
was issued
as part of the second series of Topps cards released that year.
By the time they hit the shelves, the kids who bought sports cards had shifted their attention to football cards
.
Many of the boxes of cards that contained Mickey Mantles reportedly languished on shelves until they got thrown in the trash
."
12.6 million dollars for a piece of cardboard is crazy but if you find the right person and the right card you can make a ton of money
.
What do people like about these cards so much?
People have personal connections to players and they want something to remember them by
.
Also, when we were kids we all had a favorite player and now you can get sports cards from a long time ago and get your favorite player
. Some people are in this for the money aspect which is fine too. People have been making this into a business. They buy the cards for low and sell them at a high price trying to make profit.
When do new cards come out?
New cards are coming out every week by many different manufacturers.
Based on the release calendar on beckett.com there is at least one new release of a new sports card collection every week
.
This is crazy, you have so much variety now and some sports cards companies even have an app to track your cards and things
. This is blowing up so much they are releasing sports card NFT's. So I would say that they are definitely making a comeback and a big one too.