What are you most excited for when it comes to marching band and winterguard?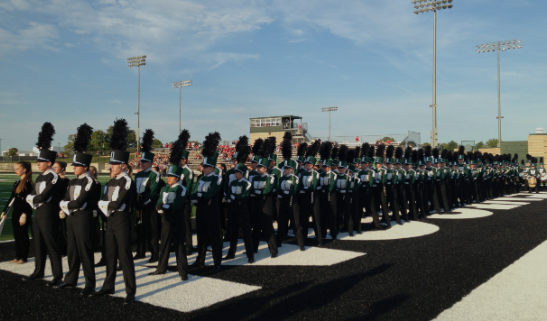 People get excited for this upcoming year for the Jenison marching band and winterguard. 
With marching band and winterguard, there are so many things that come with the sport to do. For most people, the competitions are their favorite part about this sport.
Seeing the show grow and grow is the best part too. Meeting all new people is a great way to form friendships. You also get to see other shows which is super fun.  
We always ask, why do people do marching band and winterguard? It's a way for students to create big bonds with everyone they meet at band or guard practice or even competitions.
Performing in front of people.
They can learn how to perform in front of a ton of people and it can make them feel more confident about themselves. Hearing all the cheers from your parents, friends, and other schools put smiles on faces.
Reasons, why people do the sport is because it's "Lots of fun, I have made a lot of friends." said Cordelia Sorrelle.
A bunch of people that join the sport make a ton of close friends that they thought they wouldn't ever have had. You have tons of fun at the practices and 

even the bus rides to the competitions, it's the most memorable time ever. Meeting other members from different teams is the best.
People don't understand how much time marching band and winterguard take up but, "It takes up all time, all time." says Hailey Haehnal.
It sure does take up time but at least you're doing something you love. At practice, you can get very tired and hot but seeing the end result is always the best pa
rt. Watching other show's final results is great because you get to see all the hard work that they put into their show.
The nervous feeling before a show. 
Everyone gets nervous before a show but you're not the only one. A way to help these feelings before a show could be, taking a deep breath and telling yourself
 that you'll do great. "Resuring myself and telling myself that it's gonna be okay. And if I do like it's not that big of a deal." says Claire DenUyl. 
You don't always have to do DCI or WGI after high school. "I want to like go to a college, and spin for a college." says Hailey Haehnal.
Yes, you don't have to do it after high school. You're not going to force but, at least doing it in high school is an experience. And if you choose to do it after high school and enjoy it so much. You could become a tech for a high school team.
Conclusion to the excitement.
To sum up, there is a ton of reasons why people get excited about marching band and winterguard. The people who are in it in high school and college can help other people choose to do it.
Winning competitions is always the best feeling because your hard work has paid off.
At the end of the season seeing the hard work put together makes people happy. That's why people get excited about marching band and winterguard.