Choir affects students in a positive way during pandemic

"
The feeling I get when performing music really makes all the practice worth it. It fills me with so much joy seeing all the work come together and the look on our director's face to make beautiful music with people around me,"
— Claire Peterman
Lots of students came back to choir this year and use choir as a break from their other classes or something else going on in their life. Music extracurriculars look especially different this year. Music classes like choir, band, and orchestra need to follow rules due to the mask mandate and social distancing. Students follow these rules by wearing a mask that covers their chin and nose and staying 6 feet apart during class. These changes put extra pressure and stress on all music students during the pandemic. But many students still use music as an escape during these uncertain times. 
Many students were certain that choir wasn't even going to happen this year because of all the restrictions during the pandemic.  Abbie Meekhof is a freshman in the Treble Choir. This is her second year in the choir program at Jenison. She, like many other students, felt concerned about school even happening this year. "I was very worried because I thought that we wouldn't be able to do it at all. I barely thought school was going to happen…I felt like some part of me was taken away, and I thought that I was going to have a hole in my heart for the year," stated Abbie Meekhof. 
Choir performances
Choir helps students relieve stress and let go of any feelings or obsessive thoughts during school. "I feel free and feel like I can just let go of all the negative thoughts through singing…Its given me hope and something to look forward to during the pandemic." Abbie Meekhof.
Performing onstage is a remarkable feeling for performers. It is especially different from rehearsing during choir, and although there may not be any concerts this year, choir students are still hopeful. Claire Peterman is a freshman choir student in the Treble Choir. This is Claire's fifth year in the choir program at Jenison. "The feeling I get when performing music really makes all the practice worth it. It fills me with so much joy seeing all the work come together and the look on our director's face to make beautiful music with people around me," said Claire Peterman.
Outside of school
During the pandemic, some students even use music outside of extracurricular classes as a stress reliever, or just to pass the time especially during quarantine. "Choir has helped be during the pandemic not only being able to have music during quarantine but as we get back into class having positive messages in our songs that make it easier with all the changes and changes my attitude," stated Claire Peterman.
Out of 242 students, 81% said they used music as a coping mechanism during quarantine. Music is a fun activity for students to do during the lockdown and during the school year. Many students use singing or playing music to relieve themselves of stress. Because of the pandemic, all music extracurriculars turned out to be different this year. This led to some changes in the school. These changes included wearing a mask to school and staying six feet apart from each other. The mask mandate in Michigan can make it challenging for lots of students, especially one's involved in music. But this did not stop any music students from doing what they love. 


About the Writer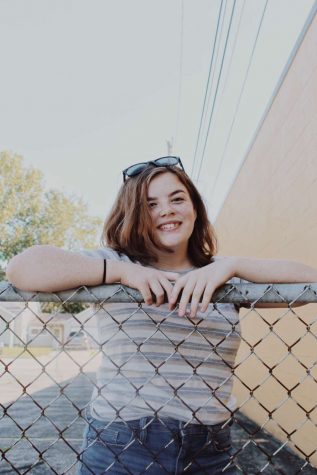 Clare Michael, Staff Writer
Clare Michael is in 9th grade. She is involved in theatre in and outside of Jenison. She is also involved in the choir program at Jenison. She loves singing,...