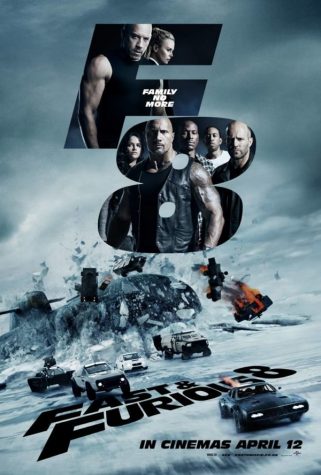 The Fast and Furious franchise is nothing new. They just kicked off the opening weekend to their eighth movie. Fast and Furious is an action-packed series where the main characters Brian and Dom do everything from racing races on the streets to stealing millions of dollars in a heist and the new movie The Fate of the Furious is no exception.
In the movie, Dom goes "Rogue" and he abandons his family. His old team gets hired to take him down and stop him. They go everywhere from Iceland to New York City to chase him down. The question is will they make it out alive?
I really enjoyed the movie and at no time felt bored or wanted to leave even though it's a 2 hour and 40 min movie. The movie had a good plot as well as lots of action. There is a lot of sense that isn't exactly realistic such as crashing a car, rolling it, and blowing up, but nonetheless it was still a great movie and I would recommend it. The movie as a little bit of swearing and violence, so I would suggest at least 13 years old and up to watch this movie, even though it's nothing really graphic. I would not say it's my favorite movie out of the series but it was one I would definitely watch again. As many people know, the character Brian (Paul Walker) passed away during the making of the last movie, and, at the end of this movie, they pay tribute to "Brian".
Kameron Schnick, Staff Writer