Girls varsity bowling team's success
April 23, 2019
After carrying out a phenomenal season, the team feels great about their achievements and all the positive support from the community.
During lunch, the Varsity bowling team sat at a special table so everyone in the lunch room could see them. The team, including the guy's team, sat together at the table so everyone could see the slideshow of how well this season went for them. It was nice for the bowling team to finally get recognition for their work and achievements.
"
When we got our State trophy, we went back to the hotel and our coach slept with it that night."
— Melanie Renberg
Due to the varsity members having a positive attitude at every practice and tournament, they had a remarkable season; everyone is ecstatic about their achievements as a team. When asked about how the season went, Lauren said "For me, the season went really well. I averaged 200 for conference and won that, placed in all but one tournament, and got third for regionals. For the team, it went super well, we won every match, one tournament, pre and post conference, regionals, and state."
As someone who is a friend of several members on the team, I am super proud to go to a school with people who succeed at something they love to do. It is a joy to hear them talk about how good they did at their tournaments. The team is proud of their accomplishments, as they should be; the community could not be happier to live with such amazing students.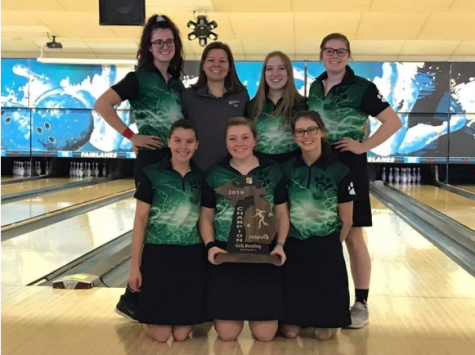 "There are tryouts and everyone is welcome to come. There are no requirements, just come with a good attitude and be willing to learn." -Anna Bartz
For tryouts, everyone is welcome to go and see if you have any  interest in bowling. Varsity Coach, Kimberly Becker, said "We do have tryouts every year. We base our picks mainly on one's coachability and overall attitude. Almost anyone can be taught how to bowl!" If you are curious to see if bowling with a team would interest you, you are more than welcome to go to tryouts, whether you have previous experience or not.
"
When we got our State trophy, we went back to the hotel and our coach slept with it that night."
— Kim Becker
Becoming good at bowling takes tons of practice. The team goes to Hudsonville Lanes to practice four days a week. Practicing on a regular schedule is necessary to place them in a good position for the many tournaments they have. The practices usually last two hours from 5-7 p.m. It may appear like the practice forever, but it is incredible to see how beneficial it is for the bowlers performance, plus it allows the the members to bond together as a team.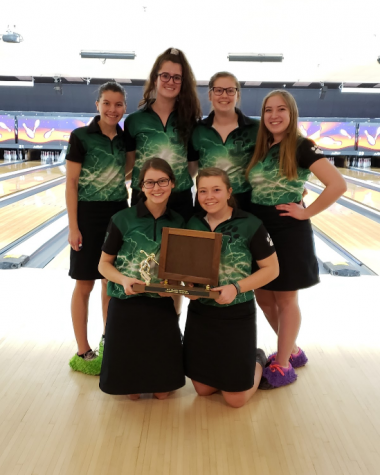 Competing as a team means you bowl against other teams. In recent years, our team's biggest competitors were Hudsonville, Cedar Springs, and  Mona Shores. Mona shores is currently the biggest competitor for our varsity team. It is the competition that pushes the members of the team to become even better than they were before. It is that drive that allowed them to accomplish first place at states