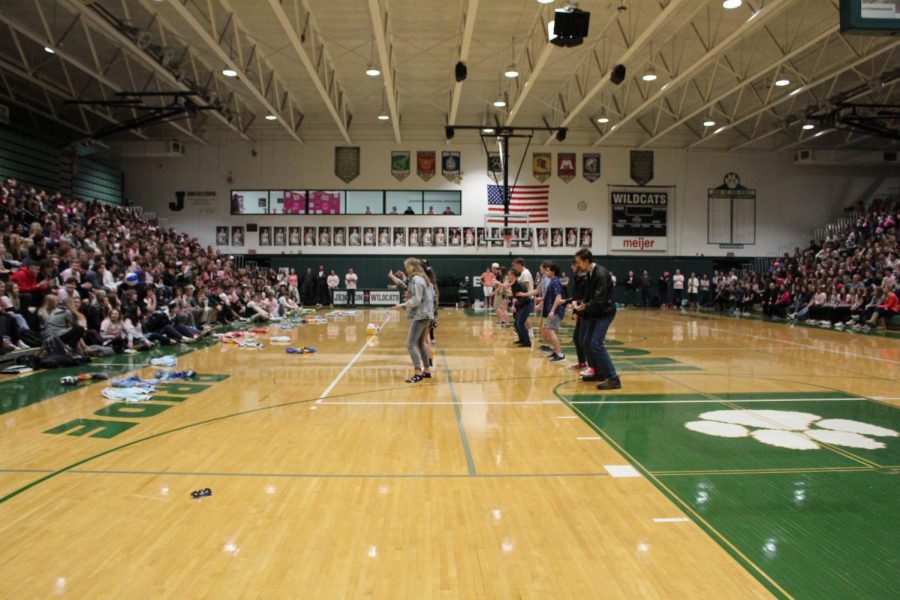 Rockin with Mock battles!
Juniors redeem themselves after a tough year.

Winning Mock Rock gets your grade a ton of pride points! This is where you are more likely to win many points. Pride points let you get excused from your classes and you get to do fun activities and hang with your friends. Every grade competes for the most pride points.
Each grade has students participate in a dance battle called, "Mock Rock" and it started many years ago. Any student may join with no dance experience. Every Student Council member must compete in Mock Rock. They put on Mock Rock during the Pink Out assembly to fire up everyone for the basketball game and Snowcoming dance.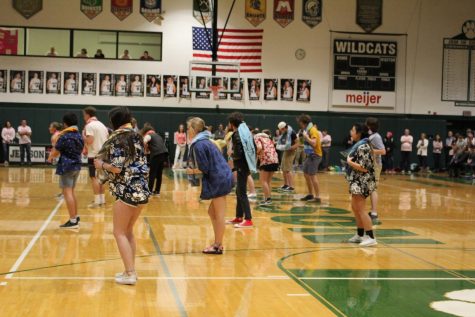 Leading up to the battle, they hold their own practices and anyone may join. I asked a student council member named, Kassidi Hill, how they come up with the music and dance moves and she replied with, "Dance moves are not from me, I cannot dance. Hahaha. Another student named, Emma Scott, comes up with the dance moves because she's the real dancer in the group. We come up with the songs that correspond with the theme student council comes up with."
The day of the Mock Rock battles, the students must have all their props ready to go. Their music must be approved by the teachers, Mossburger, and Cole.

"I honestly loved our soundtrack, I have been singing it all week!" -Kassidi Hill
Some people refuse to do Mock Rock because it is in front of the whole student body. Stu Tolsma said, "Just go for it." Stu had to engage in Mock Rock because he was in student council. When the music starts, everyone gets nervous but a student named Sydney Addington stated that, "People should come and try it! Don't let people influence you to not do it because they think it's lame. It's so much fun."
The sophomores danced right before the juniors. When they finished dancing, the juniors cheered loud and proud but at the same time, running down getting arranged for their dance.
The juniors begin dancing as soon as they hear their music start. They threw beach balls into the audience and used beach towels as props. Everyone started cheering when they heard the music from Teen Beach Movie play and tons of other students started to hype them up by screaming their names. The crowd went wild, no booing, just cheering. 
After their dance, the crowed roared with cheers and laughter. The assembly continued with other activities. The juniors all sat in their section waiting to hear who had won and who got last.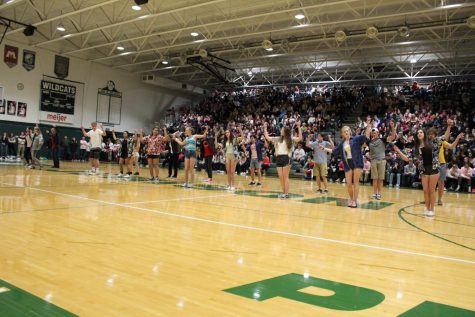 A student who never participated, Skylar Flatt, said, "I wasn't able to participate because I always had work or something, so I wouldn't be able to make the practices. I believe we should do this every year because it's a fun way to interact with new people in school. Everyone always looks like they're having so much fun dancing." People who never participated in Mock Rock always says how much fun it looks or how they are going to do it next year and bring their friends.

Surprisingly
with all their tough work, the juniors got second place! Last year, they got last so they definitely redeemed themselves. They jumped with joy and darted at each other with arms flying.