Jenison dominates Grand Rapids Union on the soccer field
"We got that bread," Clarence Molenje.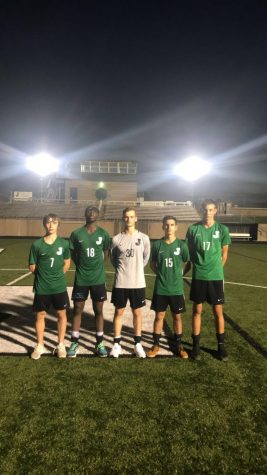 Approaching the end of their season, Jenison boys varsity soccer took on Grand Rapids Union in a heated game. Taking place Thursday, October 4, this game had a huge impact on Jenison's season. Not only was this important for their conference, but there was a deeper motive behind the game: revenge.
It was a warm day at Grand Rapids Union, and Jenison soccer was hyped up to play one of their biggest games of the season. Entering the game with a 7-1-4 record, Jenison was not looking to lose. Among the many players on their team, no one was as excited for the game as Clarence Molenje and Jonathan Hernandez, both influential seniors on the team. "I'm trying to think about it as just another game, but it definitely does not feel that way," Clarence Molenje spoke in an interview before the game. The focus of the team could be seen from the very moment they stepped onto the field.
Not too long after the kickoff, Jenison was the first to reach the scoreboard. Aidan Spratt was given a free kick. Not following the typical routine for a free kick, Spratt was able to place the ball in the perfect position to put Jenison on the scoreboard.
Shortly afterward, Jenison's Caleb Kortman scored the goal that granted Jenison a 2-0 lead. The ball whizzed toward the front of the net from the corner kick, landing close to Caleb. From there, Caleb turned the ball in the opposite direction and picked the corner of the net with a beautiful shot. Caleb's teammates congratulated him on his stunning goal.
Union finally realized that they underestimated Jenison. They started the game with their subs on the field, which was a sign of disrespect towards Jenison. Finally putting in their starters, Union was able to capitalize and answer Jenison's first two goals with a goal of their own.
Following this, Jenison's Paul Reiss was able to find the back of the net and put Jenison back to a 2 goal lead.
As anticipation grew, the crowd's cheering grew too. The thundering of Jenison's avid supporters could be heard from miles away. To add salt to injury, Josh Heagle scored the final goal for Jenison. This gave Jenison an impressive 4-1 win over Grand Rapids Union.
Jonathan Hernandez, starting fullback for Jenison, summarized the game in three simple words: "we did it." It was thought that Grand Rapids Union had underestimated Jenison, which turned out to be true. Jenison prevailed over Grand Rapids Union. When asked about how Jenison managed to pull off such an impressive win, Wyatt Boss responded "In the words of Danny Duncan, 'some call it luck, I call it dedication.'"