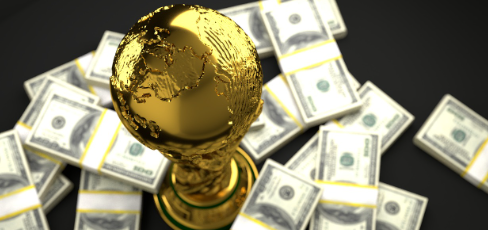 Effects of NIL
NIL, name, image, likeness. It is something that is new to college sports. Something many college athletes are taking full advantage of. Bryce Young made the most with NIL at a total of around 3.5 million dollars playing football for Alabama using the NIL. NIL has become so important because it is affecting what college an athlete goes to. And it also affects if an athlete will transfer.
Coach vs. Money

"

I would never come to Michigan if that's the case.

— Hunter Dickinson
In some cases, athletes have chosen colleges based on possible NIL money, not on the coach or program. In the past, coaches were the top reason to choose one school or another. Now, they still are a factor, but not as big of one.
Hunter Dickinson said in
an interview
with The Michigan Insider, "Why would I come to Michigan, where they're saying they have the potential for you to get something
?
I'm at Alabama for football or if I'm at Kentucky for basketball, they're like, 'You can commit here and this deal, you can sign it right after you sign the letter for a million dollars'
. I would never come to Michigan if that's the case." The NIL draws players to certain colleges. Others argue that college kids deserve to get the most NIL they can from their time since not a lot will go pro. By choosing a college based on the program, the all-around experience would be better. They would enjoy being there and sports would feel less like a job and more like fun.
Also, athletes go from one college to another to chase NIL money. Even when athletes are very successful at one college, they will still transfer to get more money.
Mike Florio
, writer for NBC Sports stated, "The availability of payment for name, image, and likeness will make some players more likely to stay in [college] for another year, or two
. Throw in the transfer portal, and some players will be able to spark a bidding war…
some skill-position players in the transfer portal are being offered $5 million or more
." Opponents of this position argue that college athletes deserve to get paid. The only way they are able to get paid is to receive NIL even if it means moving schools. But, when players move programs it leaves an imbalance. Coaches are not able to build their programs as well if they have players coming and going.
The use of NIL also will create an imbalance between sports. Some sports will end up with a lot of money and others very little.
Maria Carrasco
, a writer for Inside Higher Ed, stated, "College football players have signed 60.1 percent of all NIL deals, with women's volleyball in second place at 9.8 percent
." Football is usually the number one moneymaker at colleges. And now their athletes are receiving even more money! Some argue that the imbalance was already existent. Yet, how do you explain the kids who choose sports based on how much NIL money they could get? They usually are choosing before even being eligible to receive the NIL.
The NIL is hurting the world of college sports in a multitude of ways. Some are even more pronounced by the use of the transfer portal and others are leaving a lasting mark. The NIL will continue to hurt sports until there are regulations or guidelines.