JHS sophomores celebrate with a pride party
Hang on for a minute...we're trying to find some more stories you might like.
On May 26, 2017, the sophomores at Jenison High School celebrated their Jenison pride with a pride party. The sophomores won the most pride points throughout the school year allowing them to have the pride party.
At 1:05 p.m, the sophomores that bought their tickets were dismissed from class to go to the party that took place on the practice field. The sophomores slowly trickled into the field and started to have fun.
To start, each sophomore was offered a pizza slice, a cookie, and a bag of chips to eat, and they could get more later once everybody had their serving. There was also shaved ice that they could freely get to help them cool down under the hot sun.
Many sophomores played volleyball, frisbee, or simply threw a football back and forth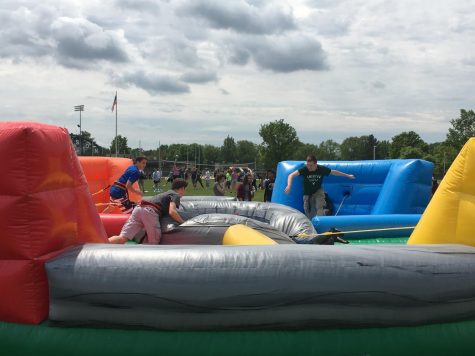 . There were also a few inflatable games set up. One such game was 'hippo chow down' which played out as a human version of hungry-hungry hippos.
The option to tie-dye white clothes was also present, which many students took the advantage of to tie-dye their white clothes.
With the music blaring from the speakers, the sophomores played around and hung out with their friends, celebrating the event they earned until the school day came to its end.