The Jenison Homecoming experience
October 6, 2022
 Every year is a new experience, and every year there are more opinions. Students at the High School are giving honest opinions on the homecoming experience, including spirit week, the homecoming game, and the homecoming dance.
All opinions are important. Having students review some of the events that are held at Jenison High School can help the school improve for years to come. 
Spirit Week
Spirit week is one of the most important things leading up to the dance. This year's spirit days include PJ day, Adam Sandler day, Anything but a Backpack day, Biker vs. Surfer day, and Jenison Pride day or Make a wish day. 
Hannah Cottrell said, "The spirit days are good but could be better." We have some new spirit days this year, but most of them are like the years before. Sophie Westmass agrees by stating "They are all the same as last year, and they are all the same main ones." 
Most of the students are excited about Adam Sandler day. Sophie Westmaas says, "It is easy to participate in, and it is comfy." People can have some downfalls with this week. Bre Manciu says "My least favorite part about this week is the weird spirit days that no one participates in." Even though the spirit days can be fun, not everyone likes to take part which defeats the whole purpose of the week. 
At the end of the week, our student council members put together an assembly. Every grade gets to take part in it and, students get shortened hours. This allows us to watch the games and events that certain students and staff take part in.
Homecoming Football Game
After spirit week comes the Homecoming football game. This game includes our homecoming parade and the floats that each class makes.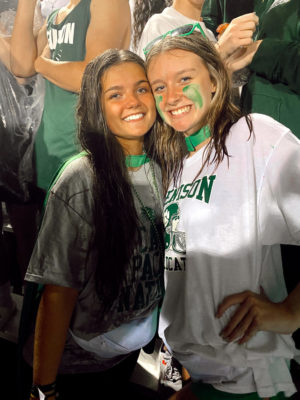 Students try to show all their school spirit at the football games. Bre Manciu says, "What I love the most about the football game is dressing up. Also, participating in all the chants in the cat pack." 
At this year's homecoming football game they announced the 2022 Homecoming Court. This year's king, Colin Diekman, and the Queen Samantha Eriks. Also, the winners of the float building contest were the Freshmen.
The Dances
This year our school has added a new dance after the football game called, the spirit dance. No one has ever experienced something like this from JHS.  Juniors Bre Manciu and Sophie Westmaas said " Yes I am going, But I do not know what to expect." 
The Homecoming dance is one of the best dances of the whole year. Like last year, the dance will be on the football field. There are mixed reviews about this. Bre Manciu says, " It feels weird having it outside, it does not feel normal and everything is really spread out."
Sophie Westmaas has a different view and says, "I like it outside, but I have never experienced it inside. There is more space to dance, and if you need a break they have activities outside."
"There will not be a week of school spirit leading up to the dance, which is something I do not like." Said, Sophie Westmaas.
"
"There will not be a week of school spirit leading up to the dance, which is something I do not like.""
— Sophie Westmaas
Homecoming is a great opportunity and is a way to remember your high school experience. These are opportunities that Jenison Highschool allows to happen. Not every school can have these events and they can create awesome memories.