The library that transports you to different lives
December 9, 2021
With Christmas holidays around the corner, the idea of having a remarkable christmas present comes with it. Search no further as I have found the perfect book to give to that person that is an avid reader and who is in a reading slump. Even if reading is not your cup of tea "The midnight library" is perfect for a cozy afternoon with hot chocolate next to the fire.
The story is about Nora Seed, a girl in her 30's who studied philosophy and whose life was not as succes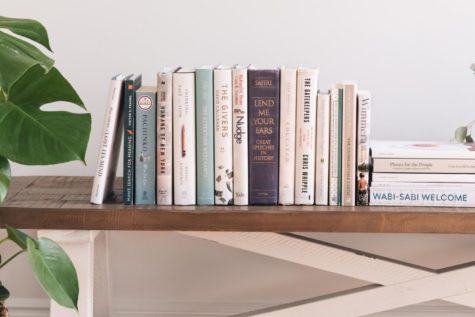 sful as everyone expected. She wants to die, from the beginning that is all you know about her. Regret and antidepressants make her end up in "The Midnight Library" , a peculiar library where the librarian is someone from her past and the books that fill the shelves are her life. More concrete, the different lives she would have had if she would have made different decisions. Why did she not accept the marriage proposal? She should move to Australia with her best friend, maybe continuing with her swimming career was a better idea than giving up. The midnight library is immense, perhaps endless, and Nora experiences enough of a theoretical portion of an infinity that she feels as though she saw them all by the time we are near  the final pages.
This is a book with a plot that interested me since I read the first page. It starts with a deep quote and the book mentions different philosophers which added exactly what makes you like the book even more. The more chapters I read, the less I wanted the book to be over. Interesting and twisted characters talk about depression and anxiety in a beautiful way that gave me chills. What I loved the most was the way that the author related the different universes where Nora lived by adding details. Nevertheless, if mental health is a struggle in the moment you find yourself right now it is better if you read it after getting over your problems; once you see there is a way out and I am sure it will help you realize how much you have overcome.
"
Nora wanted to live in a world without cruelty, but that was not an option because there were humans in all of her lives"
— Matt Haig
The only downfall of the book is the lack of action it has. By reading the sinopsis you might think that it has action and it will make you find it slow. According to Patrick F "there were no twists and since when I started reading the book I thought it was very predictable and simple". From my opinion it is true that you do not have to be creative and imaginative to try to predict what is about to happen but that does not the book less roadworthy.  When I started the book I did not expect a plot twist only a book that would make me meditate and taught me something.
To conclude, this book is not only creative and original but interesting and captivating. Every person that I talk and has read this book agrees with me in how outstanding it is. "The Midnight library" is a real page turner and I would recommend it, a must read for 2022. This book has five books out of five in my library rating scale