Why Kenny Chesney is the best of all time
April 27, 2021
"I was definitely born a dreamer. I could never sit still, and I can't now." -Kenny Chesney
Kenny Chesney is at least a top-five, if not the best, country artist. He always has, and still does, make some of the best music and many country fans can agree with that. Chesney can also come up with the best lyrics and has many awards to prove how great he is. I recommend listening to him if you haven't already.
Kenny Chesney is so good at all types of country. 
Jaxen Bagley, a 17-year-old who listened to country music his whole life, agrees with this. 
Jaxen said that "[Chesney] is so good because he was good at writing good country songs even before the 2000s, and is still good at writing new country songs that are more like the pop-country we hear today."
Kenny Chesney's first song, "Whatever it takes," released in 1994 and some of his most popular songs were part of the album he released in 1999 called "Everywhere we go." In 2020, he released his latest song "Knowing You" and it is still a top country song to come out in the last year. This goes to show how long he has made music and how he can adapt to the changing industry.
Kenny Chesney is a lyrical genius. 
"Don't blink, just like that you're six years old/And you take a nap/And you wake up and you're twenty-five/And your high school sweetheart becomes your wife." This is just one example of the many cool and relatable lyrics Chesney has come up with. Everyone can find at least one song or lyric, if not more, that they can relate to and enjoy from Kenny Chesney. The songs are about love, growing up, the country, and more. Some songs are more dramatic, and some are just more chill. Out of his 20-plus ablums, there is certain to be one you will like.
Kenny Chesney has the awards to prove his greatness.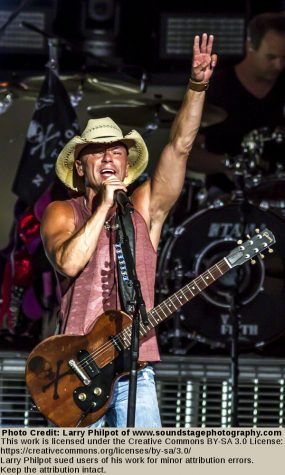 Kenny Chesney has won over 19 awards over his career so far with many more nominations. Not only has he won all these awards, but according to Lawrence Van Gelder from The New York Times, Kenny Chesney won entertainer of the year for 4 straight years! Academy members determined the first three wins and fans determined the fourth, which shows that the fans agree with how great he is.
Also, "Chesney has achieved 16 top 10 hits on Billboard 200, with nine of those reaching chart-topping positions as number ones. Meanwhile, on Billboard's Hot Country Songs, he has produced 53 top 10 hits, with 23 of these reaching number one," says David Taylor, a writer for CelebAnswers. Those are high numbers that only a great one can achieve.
These are just some reasons why Kenny Chesney is the best country artist. He is great at all types of country, is great at creating relatable lyrics, and has many awards. Plus, Kenny Chesney's music has great flow, great lyrics, and some great story-telling. Just listen to him and I think you will agree. Chesney has definitely shown us how much of a dreamer he is and how he can't stop making such great music.