Jenison is suffering without basketball
February 25, 2021
Last year, Jenison Basketball was on a tear and the fans cheered every game, but with Covid-19 will we be able to even say that about this season too?
Jenison basketball is always a big and important thing in Jenison, whether it is through Pinkout, fundraisers, or even just a regular game. There are many people that come to watch the games every week, and these people pay for a ticket and snacks. That money goes back into the community and back into the school. Basketball also has a big impact on the student's physical and mental health too. It gets them up and moving, creates a safe place for them, and gives them something that can help get their minds off the problems in their life.
Will the season even happen?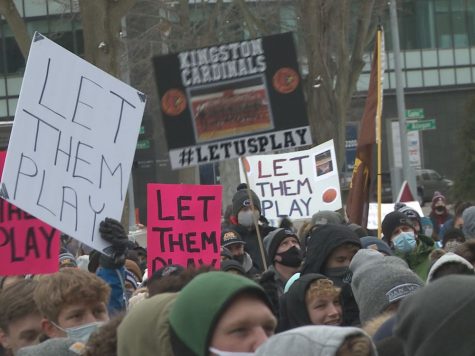 Recently, Governor Whitmer pushed the winter season back until February 21. With this push back again, many wonder if the season will take place still. Nate Arbaugh said that he thinks there will be a season still and it will be about "15-20 games." If this happens, the season won't even end until after spring break, and that doesn't include playoffs. Many people think that, at that point, it is not worth even playing. There are protests at the capital and many people work to get the season to start soon.
What is different about the way they prepare?
Throughout the summer, and even through the school year, the players have put in so much work and time into preparing for this season that is unlike any other. Jaxen Bagley explained how, as they try to prepare, there are "a lot of ups and downs, and it's a lot of stops and goes." Jaxen also explained how they had "a lot of running with a mask on" and how they "also can't do contact so [they are] just doing a lot of different drills and [they stay] far apart." It devastates the players, that work so much every day, each time they push back the season. All of this work that they put in, even with all the restrictions, might end up for nothing.
Why is the season so important?
Basketball is such a big part of many of these students' lives, whether they are players or not. The squeaking of the shoes, the bounce of the ball, and the swish of the net bring so much joy to so many people. When I asked Camden Duval, another Varsity basketball player in Jenison, what he would miss most about the basketball season, he said "not getting to play with the seniors that I've built great relationships with, along with the other guys I've been practicing with all summer." These players build such good relationships with each other and basketball helps them get along with each other, so without that, many of the players might not be social.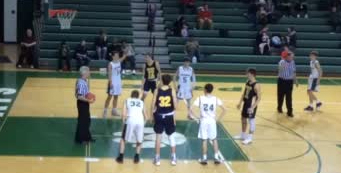 Basketball has many positive effects on the people in Jenison. It brings joy and even money into the community and it is an escape for many people. I get that Covid-19 puts limitations on what we can do, but we are the last state, other than Hawaii, to allow winter sports to start. This affects so many people and they are not happy.