Friday night lights: COVID-19 edition
October 7, 2020
Even during a global pandemic, football season is upon us and with football comes cheerleading. Many students always enjoyed football games in the past, cheering loud in the student section while their team plays against a rival school, but this year it looks to be extra different for our athletes, students, and parents.
Guidelines are not only followed at games, they are also always followed at practice. Cheerleaders must wear masks inside the gym and sanitize often every day.
Cheerleaders can take their masks off only when outside and at least six feet apart from each other at practice that is. When cheering at games, the mask must be worn at all times except during running tumbling where athletes space out and do not have contact with each other.
Gameday guidelines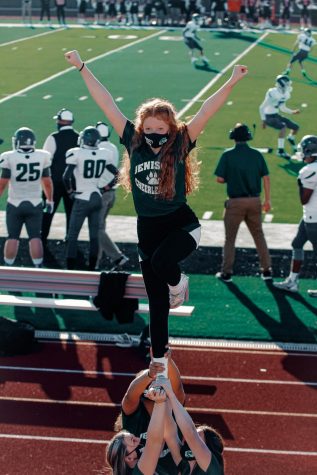 The outbreak of the Coronavirus caused many readjustments to the sports the community once thought the governor would never withdraw. Wearing a mask for cheerleaders is a guideline that is essential at games and on bus rides to and from events. Lexie Urban, a junior on the Varsity Cheer team said, "It was kind of difficult because the mask kept slipping down my face when we were cheering, but when it stayed it was fine." 
Athletes received only two tickets for each game of the season. These tickets provided to parents or guardians, no students allowed in the stadium. A guideline that completely abolished our school's loud and cheerful student section. "Each football player and cheerleader is given two tickets that needed to be gifted to two parents," said Emma Elders. This is to prevent the spread of the virus, but it prevents the school spirit as well.
"
We got to stunt, but we obviously have to wear a mask and after we are done with our stunt, we have to sanitize."
— Lexie Urban
Many people know sports are impractical to pursue without being in contact with others. The reality of cheerleading was after all other sports cleared to have contact, sideline cheer still was not able to participate using any contact. The week of the first game, stunting and contact cleared, but with many precautions. "We got to stunt, but we obviously have to wear a mask and after we are done with our stunt, we have to sanitize," said Lexie Urban.
In the future
A final question that many still wonder is will this football season continue? After all, being in the middle of a global pandemic puts the chances at risk. Lexie Urban said, "If we keep doing what we're supposed to be doing, staying safe, and being smart then I think there is the potential of it continuing. If we don't listen to the protocols then the season could be done for."
Athletes can only hope for the best in this situation. Being diligent with these guidelines will verify the continuation of this season. These guidelines are only a few of the many cheerleaders must follow in order to finish and enjoy the rest of their season.