Girls in STEM: Escaping Space
February 12, 2020
This spring Girls in STEM is "flying to space."
Girls in STEM is a club here at Jenison High School, that started six years ago. Its primary purpose is to empower and teach young girls about STEM. Throughout the school year we meet with elementary students and perform STEM projects with them. In fall of this 2019-2020 school year, we met with first through third graders. We held a build-a-boat engineering activity, played math card games, performed an m&m experiment, and taught them how to make "lava lamps." This spring we meet with fourth through sixth graders and this time our theme is space.
What is Girls in STEM?
To backtrack, what is Girls in STEM? Well, Girls in STEM, also referred to as GSTEM, is a club at Jenison High School. It provides opportunities for high school girls to take part in STEM activities and to help young girls do the same. In STEM, we meet every Monday and plan projects for the elementary kids. We test activities, eat snacks, schedule dates for the younger girls' meetings, (which occur on Saturdays) and of course, have fun. 
GSTEM also goes on field trips, hosts activities, and participates in school events, like walking in the Homecoming Parade. A returning member, Kate Boutell, stated, "Two years ago we went to the Museum of Science and Industry by train and earlier this year we attended project day as GVSU. And we had a networking brunch for women in STEM fields and high school girls interested in STEM fields."
Why Should Girls Join STEM?
There are multiple reasons why girls should join STEM. Hannah Groothuis believes "young girls should go into STEM because it is a field where women are underrepresented and it has many applications as a career and in life." 
Kate Boutell thinks "young girls should do STEM because, historically, women have been discouraged from STEM fields and the amount of women in STEM fields even now is lower than that of men or other gender. Exposure to STEM from a young age encourages the retainment of girls in STEM as they age, getting those numbers up."
"
I joined Girls in STEM to connect with people with similar interests.
— Hannah Groothuis
There are a plethora of activities we partake in Girls in STEM. One current club member said Girls in STEM "is a fun organization and not that big of a commitment." We only meet on Mondays with just the high school girls and then a couple of Saturdays with the younger girls. Overall, GSTEM is enjoyable and laid back.
Construction and Competition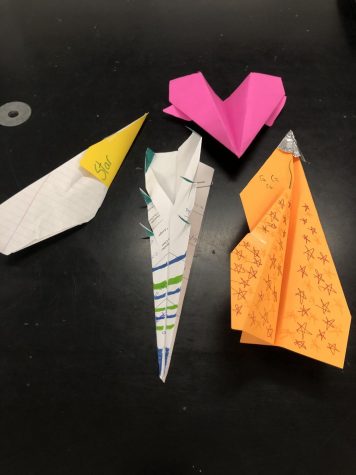 This spring, exciting math, engineering, and science activities are to come. For the engineering project, the girls will construct gliders (aka paper airplanes). Following that, they will compete in math Tic Tac Toe, test their knowledge in a science and space escape-room-like activity, and assemble space/galaxy themed bath bombs.
As mentioned above, we test our planned activities to make sure they work well. For example, we tested out gliders using a variety of materials and even had a competition on who's could go the farthest. One GSTEM member exclaimed, "It was an entertaining and a creative challenge!" When the younger girls make their gliders there will be multiple materials for them to utilize like: printer paper, construction paper, aluminum foil, paper clips, tape, and more. After they test out their gliders, they have a chance to construct a second one with improvements. When the girls do this they will be split into two groups; while some make gliders, the others will compete in math Tic Tac Toe.
The Escape Room
For our big event, we have a special space escape room planned. In order to progress to each step, the girls will have to put their knowledge to the test and answer a space-themed science question. Before the escape room, we will teach them some space terms they can write down, in order to help with the questions, but we will also guide them along the way. Throughout the escape room, the kids will earn ingredients to make a bath bomb. Once everyone escapes, we will walk them through how to make one. Some ingredients include scented essential oils and food coloring, so they can make them look like planets.
Although the first meeting with the fourth through sixth graders is not for a few weeks, many girls already signed up to come. We hope to see them enjoy the activities, expand their interest in STEM, and excited to learn more. Kate Boutell says her "favorite part by far is seeing the girls enjoying the activities we created and learning new things at the same time. Hearing a young girl saying 'Wow, I've never done this before! This is so cool!' is so special."
These girls are soon to delve into space and learn more about our solar system. The question I know that is all on our minds is: can they escape?