Jenison Wildcats win their conference opener
October 9, 2019
Fruitport, MI- Friday the 13th was definitely lucky for the Jenison Wildcats. Looking for their first win of the season, the Wildcats defeated the Fruitport Trojans in the OK Black conference opener 56-21.
Jenison (0-2), going into Friday night's game, comes off a winning 2018 season (7-4), where they reached the playoffs for the first time in 15 years. In the first two games of the season against Forest Hills Central and St. Thomas More of Canada, Jenison struggled with execution of the game on both sides of the ball. The Wildcats inability to establish the passing game and make open-field tackles left fans wondering if a return to the playoffs this season was possible.  All of that changed on Friday night when Jenison's junior quarterback, Jaden Vandalsen, threw for 253 yards and four touchdowns. He contributed further to the point total by rushing for two additional touchdowns. The offense continued its stellar performance by putting more points on the board with touchdowns by Zymarius Walker and the Rathsack brothers, Nick, and RJ.  Key senior players, Caden Beurkens (1 sack) and Andrew Medley, led a strong defense. After this balanced performance, it appears Jenison may have all the tools for a good, solid team.
"
Coach Zeitman"
— Our goal is to go 1-0 each week.
Coach Rob Zeitman, in his second season as head coach, is proud of how his team played this week. "This team is young, but there is good senior leadership and experience. Our juniors and sophomores also stepped up and played a great game. Our goal is to go 1-0 each week and that is exactly what we did. We  stress to our players to try and not to look ahead and focus only on who we play that week." 
Kicking coach Wyatt Ford, who joined the coaching staff last year, echoes coach Zeitman, "Our struggles in the beginning of the season were because of our inexperience. This group of young players continues to mature as a team and it showed this week." 
Michael Care, punter, and wide receiver stated "I believe in my team. We had good energy this week, and we were ready to play." Care and kicker Nate Ross, going 8/8 on PAT's, also contributed to the strong offense on Friday night.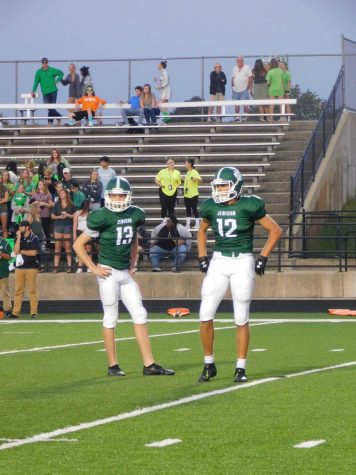 The Jenison coaches and players focus on continuing to build a strong football program based on leadership, performance, and positivity. Their goal is to also create strong ties to the student body and the community. Running back and special teams coach, Brad Corpe, engages with the student-led "Cat Pack" each game by encouraging them to cheer for their Wildcats. He knows the players feed off their excitement and support. Coaches Zeitman and Ford, and player Michael Care when asked if they had any concerns or worries regarding their opponents this season, all stated, "We have no worries because Jenison is the only team that can beat Jenison." With that mindset and a win this week, Jenison is ready to face the challenges in future games against Hudsonville and Muskegon this season. If Jenison continues playing their own game and doesn't think ahead or about the outcome, they will be successful.
Conference play continues next week when Jenison faces off against Reese-Puffer and Fruitport takes on Union.