NAHS: Express your inner Artist!
October 9, 2019
Jenison High School is home to many clubs and organizations, but how does the National Art Honors Society stick out from the rest?

Also known as NAHS, the National Arts Honors Society gives students an opportunity to express their artistic side. Along with Jenison's other art organization, Art Club, NAHS is the next biggest step. At Jenison High School, Mrs. Buzzitta-Johnson and Mrs. Griffore, the two official directors, accomplish whatever they can to make this the greatest organization they can.

"

NAHS members will learn a variety of art-related skills and make fun memories along the way."

— Mrs. Buzzitta-Johnson

"

Although Mrs. Buzzitta-Johnson and Mrs. Griffore hold many powers, they have creative directors on their side to brainstorm ideas. To get more background information on how these two groups work together, I talked to a current creative director, Lydia Ramos. 

"The creative directors meet a week prior, to discuss how we will approach certain activities or issues," Lydia explains. "We throw out ideas and opportunities back and forth with Mrs. Griffore and Mrs. Buzzita, and from there we create our agenda that we will announce at our full member meetings."

When all members get together, they discuss several events that may be available to them at that time. This allows members to get exposed to those events and pick out a few that would be in their best interest.

But what opportunities are available?

"Students have had an opportunity to help with fundraising programs like ArtMoves and learned how to professionally frame artwork, put it on display, and organize an evening event," states Mrs. Buzzitta-Johnson, a current NAHS director.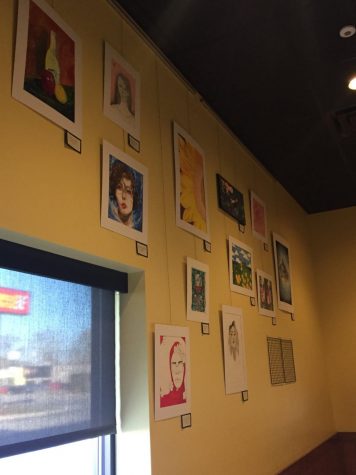 Also, just like many other organizations, the National Art Honors Society has few minimum requirements to become a member. Students at Jenison want to be held at a standard where they do not feel too pressured, yet understand that they have to be responsible in order to participate.
"There are two main expectations for students," according to Mrs. Griffore, "As an honor society, there is an academic component, and we expect our members to keep at least a 2.5 GPA. The other expectation is that they are actively volunteering their time by participating in at least one project each month."
If a student finds that they want to join a certain club that represents their school, it is significant to imply how and why this may be a good fit for that student.
"This is an opportunity to simply be creative, express yourself, connect with others and advocate for the visual arts! Students have the opportunity to use their artistic abilities to give back to the school and community which is so enriching," states Buzzitta-Johnson. 
There are many benefits that come along with the National Art Honors Society. It allows students to give birth to creative ideas, make new relationships, and participate with their peers. If you or somebody you know has a love for art and volunteering, then this organization is most definitely for you.